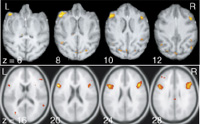 Most researchers in neuroscience use animal models.
Though most neuroscientists are interested in understanding the human brain, they can use more invasive techniques with animal brains. In exchange for these invasive abilities they must assume that other animals are similar enough to humans that they can actually learn something about humans in the process.
Functional magnetic resonance imaging (fMRI) is a non-invasive technique for measuring changes in local blood flow (which are significantly correlated with changes in neural activity) in the brain. fMRI measures what is called the blood oxygen level-dependent (BOLD) signal. Because it is non-invasive it can be used with human subjects.
Researchers like ourselves recognize the value of animal research, especially when the behavior being investigated is similar between the studied species and humans.
However, there is at least one fundamental cognitive difference between humans and all other animals, and likely many more given the dominant position of our species.
For researchers like ourselves it is much more interesting to learn something about the human brain (the item of interest) rather than, say, the rat brain.
Why do some neuroscientists think that using fMRI to study the neural basis of cognition in humans is of little value?
Many have heard that there are issues with fMRI as a technique. There are (like any technique), but not as many as most believe.
Here are some common misconceptions about fMRI: