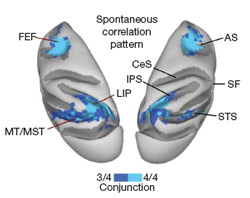 Functional magnetic resonance imaging (fMRI), a method for safely measuring brain activity, has been around for about 15 years. Within the last 10 of those years a revolutionary, if mysterious, method has been developing using the technology. This method, resting state functional connectivity (rs-fcMRI), has recently gained popularity for its putative ability to measure how brain regions interact innately (outside of any particular task context).
Being able to measuring innate functional brain connectivity would allow us to know if a set of regions active during a particular task is, in fact, well connected enough generally to be considered a network. We could then predict what brain regions are likely to be active together in the future. This could, in turn, motivate us to look deeper at the nature of each brain region and how it contributes to the neuronal networks underlying our behavior.
Rs-fcMRI uses correlations of very slow fluctuations in fMRI signals (< 0.1 Hz) when participants are at rest to determine how regions are connected. The origin of these slow fluctuations has been unclear.
Some have argued that the thoughts and day dreams of participants "at rest" may explain the strong correlations typically found between brain regions. Recently, Vincent et al., 2007 sought to address this possibility using fMRI with anesthetized monkeys.
The idea is that if unconscious monkey brains show low-frequency correlated activity across known brain networks, then such findings in humans at conscious rest are likely not due to spurious thoughts, but something more innate.