Keeping up with new findings is constantly becoming more difficult with the rate of publication in just cognitive neuroscience increasing by over 200 per year, with an overall increase of 2333 over the last ten years  (see figure below). I will briefly describe some methods I've recently discovered to help deal with this onslaught of new information.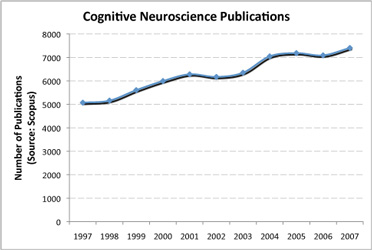 I have found that using a combination of computer applications and websites can be effective for keeping up with science readings.
The websites are useful for searching and subscribing to syndicated (RSS) feeds. The applications are useful for organizing articles.
Websites for searching

Google Scholar
This website is extremely useful for exploring a comprehensive collection of research on a particular topic. It uses Google's legendary indexing algorithms to make keyword searching a breeze, while browsing citation links can reveal a chain of publications on a topic. It's also useful because citations can be quickly imported into programs like EndNote, and articles that are often unavailable on other websites are made available via Google's indexing.
Scopus
Scopus is "the largest abstract and citation database of research literature and quality web sources". It's very useful for seeing all the papers that have cited a particular article, and all the papers that article has cited. Google Scholar also has this feature, but in my experience there are more false-positives than with Scopus. The consistent link, citation, and abstract-viewing interface makes Scopus often more effective than Google Scholar.