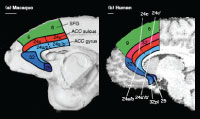 Figuring out how the brain decides between two options is difficult. This is especially true for the human brain, whose activity is typically accessible only via the small and occasionally distorted window provided by new imaging technologies (such as functional MRI (fMRI)).
In contrast, it is typically more accurate to observe monkey brains since the skull can be opened and brain activity recorded directly.
Despite this, if you were to look just at the human research, you would consider it a fact that the anterior cingulate cortex (ACC) increases its activity during response conflict. The thought is that this brain region detects that you are having trouble making decisions, and signals other brain regions to pay more attention.
If you were to only look at research with monkeys, however, you would think otherwise. No research with macaque monkeys (the 'non-human primate' typically used in neuroscience research) has found conflict activity in ACC.
My most recent publication looks at two possible explanations for this discrepancy: 1) Differences in methods used to study these two species, and 2) Fundamental evolutionary differences between the species.