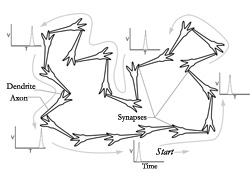 10) The Hebbian learning rule: 'Neurons that fire together wire together' [plus corollaries] (Hebb – 1949)
D. O. Hebb's most famous idea, that neurons with correlated activity increase their synaptic connection strength, was based on the more general concept of association of correlated ideas by philosopher David Hume (1739) and others. Hebb expanded on this by postulating the 'cell assembly', in which networks of neurons representing features associate to form distributed chains of percepts, actions, and/or concepts.
Hebb, who was a student of Lashley (see previous post), followed in the tradition of distributed processing (discounting localizationist views).
The above figure illustrates Hebb's most original hypothesis (which is yet to be proven): The reverbatory cell assembly formed via correlated activity. Hebb theorized that increasing connection strength due to correlated activity would cause chains of association to form, some of which could maintain subsequent activation for some period of time as a form of short term memory (due to autoassociation).
Implication: The mind, largely governed by reward-seeking behavior, is implemented in an electro-chemical organ with distributed and modular function consisting of excitatory and inhibitory neurons communicating via convergent and divergent synaptic connections strengthened by correlated activity.
[This post is part of a series chronicling history's top brain computation insights (see the first of the series for a detailed description)]
-MC