Keeping up with new findings is constantly becoming more difficult with the rate of publication in just cognitive neuroscience increasing by over 200 per year, with an overall increase of 2333 over the last ten years  (see figure below). I will briefly describe some methods I've recently discovered to help deal with this onslaught of new information.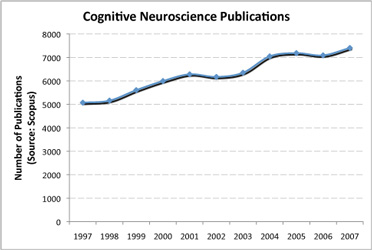 I have found that using a combination of computer applications and websites can be effective for keeping up with science readings.
The websites are useful for searching and subscribing to syndicated (RSS) feeds. The applications are useful for organizing articles.
Websites for searching

Google Scholar
This website is extremely useful for exploring a comprehensive collection of research on a particular topic. It uses Google's legendary indexing algorithms to make keyword searching a breeze, while browsing citation links can reveal a chain of publications on a topic. It's also useful because citations can be quickly imported into programs like EndNote, and articles that are often unavailable on other websites are made available via Google's indexing.
Scopus
Scopus is "the largest abstract and citation database of research literature and quality web sources". It's very useful for seeing all the papers that have cited a particular article, and all the papers that article has cited. Google Scholar also has this feature, but in my experience there are more false-positives than with Scopus. The consistent link, citation, and abstract-viewing interface makes Scopus often more effective than Google Scholar.
RSS feeds
RSS feeds can be used to save searches and have any new items sent to you automatically. Websites (or programs) like Google Reader can be used to keep up with the latest articles published that fit your search criteria. Multiple searches can be used for RSS feeds.
Individual journals typically have their own RSS feeds, making updates on journal publications very easy to keep up with.
Using programs to organize science reading
Papers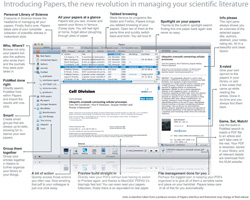 One of the most useful programs I've come across in a long time is Papers. This (Mac-only) program uses many innovative concepts for organizing music in Apple's iTunes and applies them to organizing research articles. Citation information can be imported easily, and PDFs of articles can be easily attached to citation meta-data. It has a folder system, a rating system, and many other features that make it easy to keep track of which articles are important for what topic and how much depth-of-reading each warrants.
Zotero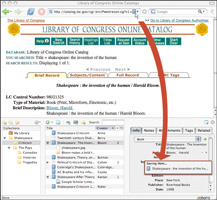 This multi-platform Firefox extension provides an effective way to search and organize articles, all within the web browser. Zotero interfaces with search websites to allow importing of citations and PDFs. Citations can then be exported to a referene manager (e.g., EndNote) or a bibliography can be generated directly. Zotero can also save links relating articles to each other, as well as notes attached to articles. Issues I've had with Zotero: 1) Difficulty synchronizing across computers (online, or on a USB drive), 2) No rating system for keeping track of article quality. It appears the first issue will be dealt with in future releases of the program (see the sync preview). The second issue can be dealt with using tags (e.g., sort by 'Good', 'Best', etc.), though this lacks some elegance.
My science reading setup
I use PubMed, Scopus, and Google Scholar to search for articles. I use my university's proxy server to access articles from off-campus.
I have multiple RSS feeds coming from Scopus, blogs, and various journals. I use Google Reader to view them. Using Scopus and Google Reader, I am updated automatically whenever new articles cite my favorite articles.
I use Papers to download citation information and article PDFs, organize articles into categories, search for articles, and read articles.
When writing, I export citations into EndNote XML format and use EndNote's integration with Word to format my bibliography.
A science reading setup, for free
If you'd rather not pay for either Papers or EndNote, you might try the following setup:
As before, PubMed, Scopus (if fee covered by your institution), and Google Scholar for article searching
As before, RSS feeds with Google Reader
Zotero for downloading citations and article PDFs, and organizing articles
Zotero can also export a bibliography, though it lacks most citation styles (slated to change in the next major update). There is a plug-in to integrate it with Word.
Feel free to add any tips you have for managing science articles to the comments.
-MWCole