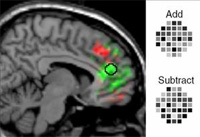 News about a neuroimaging group's attempts to predict intentions hit the wire a few days ago. The major theme was how mindreading might be used for unethical purposes.
What about its more profound implications?
If your intentions can be predicted before you've even made a conscious decision, then your will must be determined by brain processes beyond your control. There cannot be complete freedom of will if I can predict your decisions before you do!
Dr. Haynes, the researcher behind this work, spoke at Carnegie-Mellon University last October. He explained that he could use functional MRI to determine what participants were going to decide several seconds before that decision was consciously made. This was a free choice task, in which the instruction was to press a button whenever the participant wanted. In a separate experiment the group could predict if a participant was going to add or subtract two numbers.
In a way, this is not very surprising. In order to make a conscious decision we must be motivated by either external or internal factors. Otherwise our decisions would just be random, or boringly consistent. Decisions in a free choice task are likely driven by a motivation to move (a basic instinct likely originating in the globus pallidus) and to keep responses spaced within a certain time window.
Would we have a coherent will if it couldn't be predicted by brain activity? It seems unlikely, since the conscious will must use information from some source in order to make a reasoned decision. Otherwise we would be incoherent, random beings with no reasoning behind our actions.
In other words, we must be fated to some extent in order to make informed and motivated decisions.
-MC