Saturday, March 24th, 2007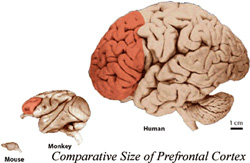 Most neuroscientists don't use human subjects, and many tend to forget this important point:
All neuroscience with non-human subjects is theoretical.
If the brain of a mouse is understood in exquisite detail, it is only relevant (outside veterinary medicine) in so far as it is relevant to human brains.
Similarly, if a computational model can illustrate an algorithm for storing knowledge in distributed units, it is only as relevant as it is similar to how humans store knowledge.
It follows from this point that there is a certain amount of uncertainty involved in any non-human research. An experiment can be brilliantly executed, but does it apply to humans?
Circumventing this uncertainty problem by looking directly at humans, another issue arises: Only non-invasive techniques can be used with humans, and those techniques tend to involve the most uncertainty.
For instance, fMRI is a non-invasive technique that can be used to measure brain processes in humans. However, it measures the oxygenation levels, which is only indirectly related to neural activity. Thus, unlike with animal models, measures of neuronal activity are surrounded by an extra layer of uncertainty in humans.
So, if you're a neuroscientist you have to "choose your poison": Either deal with the uncertainty of relevance to humans, or deal with the uncertainty of the processes underlying the measurable signals in humans.
(more…)