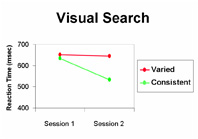 18) Behavior exists on a continuum between controlled and automatic processing (Schneider & Shiffrin – 1977)
During the 1970s those studying the cognitive computations underlying visual search were at an impasse. One group of researchers claimed that visual search was a flat search function (i.e., adding more distracters doesn't increase search time), while another group claimed that the function was linear (i.e., adding more distracters increases search time linearly).
Both groups had solid evidence supporting their view. What were the two groups doing differently that could explain such different results?
As a graduate student working with Shiffrin, Schneider sat the two groups down during a scientific conference to have them figure out why their results differed so much. Needless to say, little was accomplished as both sides talked past one another.
Several years later Schneider & Shiffrin came to the realization that the two groups were practicing their subjects differently. The group with the flat search function allowed their subjects to practice the search task many times before collecting data. In contrast, the group with the linear search function began collecting data as soon as their subjects could perform the task.
This realization lead Schneider & Shiffrin to posit a distinction between automatic (flat search function) and controlled (linear search function) processing. In a landmark set of papers they clearly demonstrated this dual process distinction along with the boundary conditions of controlled and automatic task performance.